RG UrbanDesignUnit (SBP)
Real Laboratory City
Spatial planning and urban design are action-oriented and are always related to everyday social space. Thus, urban research, unlike clinical laboratories, has different conditions for each experimental arrangement. And: after an experiment, the city does not return to its previous state. At each experimental site, individual actors with their previous influences and options for action encounter complex problems that need to be researched and taken into account for a successful transformation. After all, the European city is already largely built, and the existing structure represents our future and resource. The way we deal with it, its transformation and the underlying process qualities, including the actors involved and the perspectives linked to them, are the topics that guide our research. Our goal is to generate relevant knowledge for urban planning, land use planning and underlying processes and to mediate between theory and practice. The exchange in and about successful cooperative urban development processes as well as research collaborations is of great importance. Experiential knowledge is to be permanently researched and further translated into research, practice and teaching.
Research fields
Urban and Digital Transformation
Cooperative Urban Planning
Process Design
Artistic urban and neighborhood development and urban practice
Just Cities, resource-efficient urban development and climate-resilient neighborhoods
Guiding principles are for us
- Urban development qualification
- Mediation of building culture
- Pointing out future scenarios and development perspectives
- Interdisciplinary work
Location & approach
The facilities of TU Dortmund University are spread over two campuses, the larger Campus North and the smaller Campus South. Additionally, some areas of the university are located in the adjacent "Technologiepark".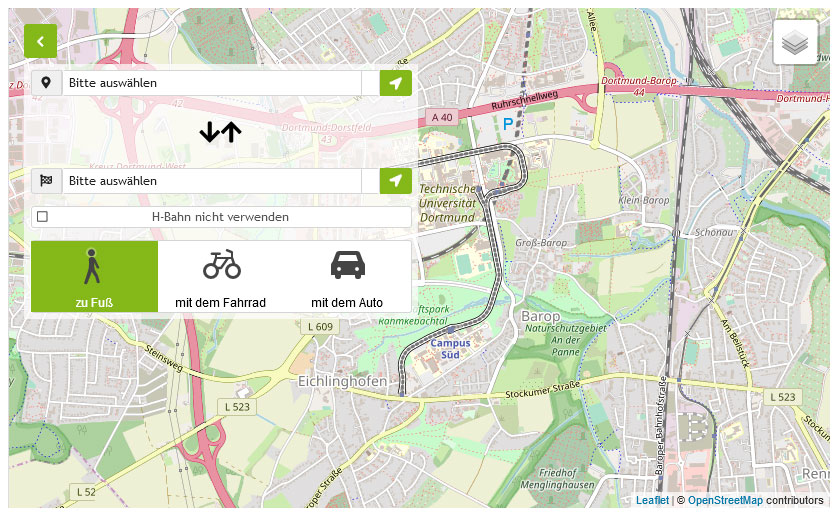 Zum Lageplan
Campus Weather

Open weather forecast