Eine Landschaft - Lokales Wissen, Kassel Ost
Begin:
End:
Location: Documenta Fifteen, Kassel


Ein Projekt von:
MAP Markus Ambach Projekte
mit Renée Tribble/TU Dortmund
und den Initiativen von Kassel Ost
Starting point:
Ahoi, Blücherstraße 22, 34123 Kassel

Das Projekt Eine Landschaft führt entlang eines urbanen Parcours zu den Protagonist:innen dieses Wissens in Kassel Ost. Gemeinsam mit den Anlieger:innen geht es der Frage nach, welche Erkenntnisse sich hier aus dem direkten Umgang mit den räumlichen, kulturellen oder geologischen Gegebenheiten der Landschaft ergeben. Es fragt danach, wie sich ein so gewonnenes Wissen artikuliert und weitergegeben, übersetzt oder transformiert werden kann, um neue Perspektiven für die Zukunft unserer Städte aufzuzeigen und aktuelle Planungsprozesse zu informieren.
Entlang des Weges verweist das Projekt mit kleinen künstlerischen und alltagskulturellen Interventionen der Anlieger*innen, die darin von sich selbst erzählen, auf die komplexen wie verborgenen Qualitäten dieser einzigartigen Landschaft. Vom Bauschild mit Gemüseverkostung der SOLAWI bis zum documenta-dish bei Al Wali, vom Holzschnittpanorama der Blüchergärten bis zum Monument für den Kasseler Spaziergangswissenschaftler Lucius Burckhardt entfaltet sich entlang des Weges eine Landschaft, die sich selbst erzählt.

Urbaner Parcours Kassel Ost:
Im Projekt Eine Landschaft führt ein urbaner Parcours zu den Protagonist:innen und Inititativen des lokalen Wissens in Kassel Ost. Entlang einer blauen Wegmarkierung finden sich auf einem kleinen Spaziergang von der Fulda bis nach Bettenhausen ihre Projekte und kleine Interventionen wie das Monument für Lucius Burckhardt, das Schrebergartenmuseum oder man genießt das documenta-dish "Zatar" bei Al Wali.
TOURSTART: AHOI, BLÜCHERSTRASSE 22, 34123 KASSEL
ALTERNATIV: AL WALI, LEIPZIGER STRASSE 79, 34123 KASSEL
GEHZEIT / WALKING TIME: 40 MIN
Hier zur Tour-Route (Google Maps)

Projektzeitung:
Begleitend zu diesem urbanen Parcours entsteht eine frei verfügbare Projektzeitung als mobile Wanderkarte, die die Gäste auf ihrem Weg durch die Landschaft begleitet und das Gesehene vorstellt und kommentiert. In Portraits der Anlieger*innen und Initiativen lernt man die Potenziale dieser unsichtbaren Landschaft auch zum Mitnehmen kennen.
Location & approach
The facilities of TU Dortmund University are spread over two campuses, the larger Campus North and the smaller Campus South. Additionally, some areas of the university are located in the adjacent "Technologiepark".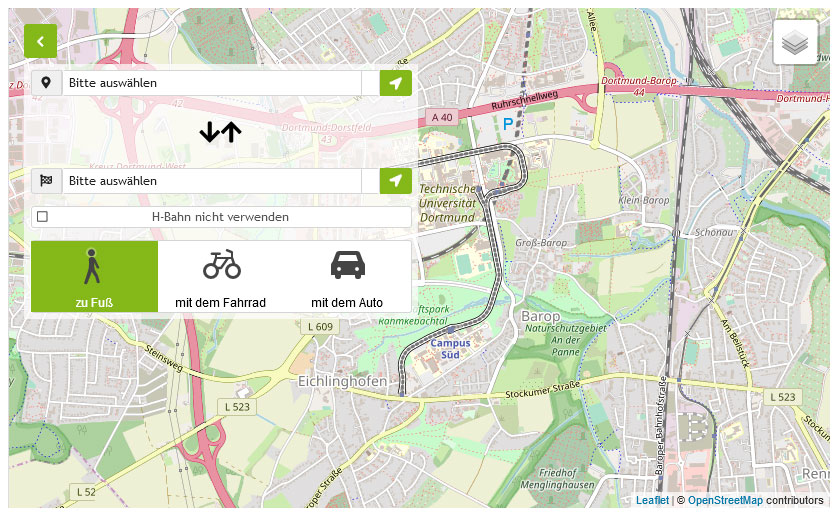 Zum Lageplan
Campus Weather

Open weather forecast